Latest Drivers Jobs in Dala juice Factory 2021
Job Description
Latest jobs in Dala Juice Factory Saudi Arabia For Fresher and Well Experienced Persons.Amazing 100% Free Visa Free Tickets Jobs,Free Accommodation and Free Food, interested candidates contact immediately, All details are Given below, Interview will be held Trade Test & Training Center.
More Details
Thousands Free work visa Jobs For Pakistani. Verifiy jobs . Overseas Jobs for fresh, and experienced workers. See complete jobs salary details, education, training, courses and skills requirement, experience jobs . Professional CV For Overseas Jobs۔ Thousands Work visas Available like ,Saudi Arabia,Qatar,Dubai,UAE,Canada, USA
Posts
Salesman kam Driver
How Can You Apply
Apply Online: Upload CV
Date Posted: 6 April 2021
Sector: Private
Newspaper: Express
Location: Saudi Arabia
Organization: Private Company
Job Industry: Construction
Job Type : Full Time
Gender: Male
Last Date: 10 April, 2021
Visa price: 100%Free
Nationality: Pakistani
Latest Drivers Jobs in Dala juice Factory 2021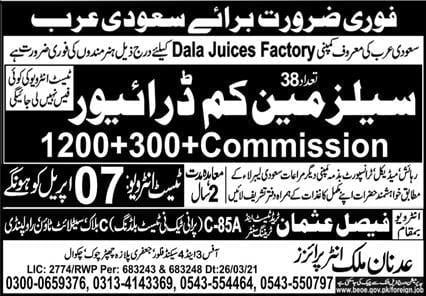 Requirements
Professional CV
Passport
Original Degree,Diploma certificate
Copy Degree,Diploma certificate
Original Experience certificate, if available
Copy of Experience Certificate, If available
Original CNIC
Copy of CNIC
Passport size Photo background white 10
Passport size photo background Blue 10
More information.
our team has helped many professionals, semi professionals, skilled and semi skilled workers establish jobs in Dubai, Saudi Arabia, Qatar, Bahrain,Canada,UK and Kuwait.
contact us.
Any Question about job descriptions, salaries and other details concerning and all other employment opportunities in saudi arabia, please email us. We look forward to working with you, shahidabbas4659@gmail.com
We welcome all International candidates, we would be happy to help you.
All latest jobs Click here 2021